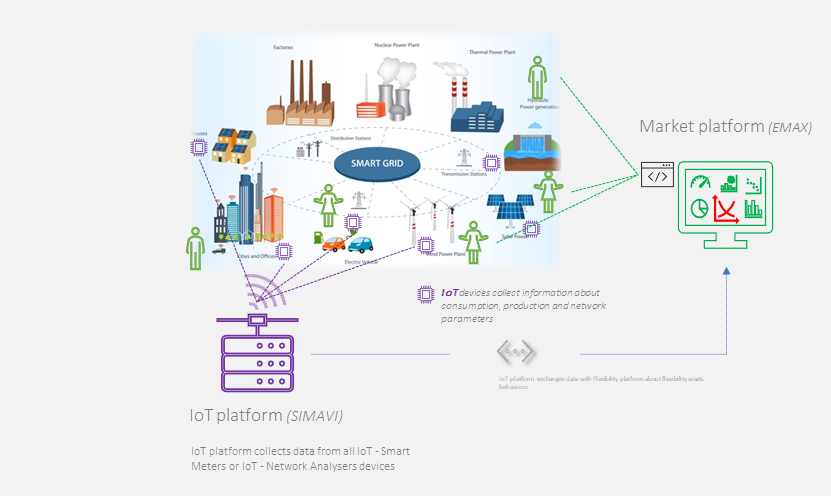 The integrated platform of FlexiGrid is a service that comprise a blockchain-based trading platform and an Internet of Things (IoT) monitoring platform. As FlexiGrid is ending this is one of the key exploitable results of the project. 
A Novelty Becomes Reality
Ralitsa Rumenova, Entra Energy, reminisces about the early days of FlexiGrid, where digital and energy sector transformation were mere novelties. Today, they're integral parts of our reality. She highlights the significance of the integrated platform by detailing its components and their functionalities. The platform facilitates the smooth integration of various market players, devices and systems, necessary for forming a cohesive (end-to-end) platform that optimizes the flexibility procurement process for Distribution System Operators (DSOs) from different Flexibility Service Providers (FSPs).
"Imagine the energy sector a few years back. Flexibility was almost an alien concept," Ralitsa says. "Today, it's imperative to understand the multifaceted nature of flexibility – from discerning its needs, the vast array of services, assets, and providers to its application in areas such as grid congestion management."
The platform's prowess lies in its adaptability, making it possible for DSOs to procure flexibility from various assets and providers. This one-stop-shop solution increases visibility, gathering data from connected assets like smart meters and connecting them to the IoT platform. This data can then be used for predicting, forecasting, or merely for enhanced visibility, helping both DSOs and flexibility service providers in making informed decisions not only for procuring and providing anxcilary services, but also in optimizing daily operations.
The Future of FlexiGrid's Platform
Carmen Oana, Simavi, discussing the development aspect of the platform, emphasizes its complexity and the imperative need for customization. "It's crucial that while the platform is intricate, it remains responsive to the DSOs' needs and is effortlessly adaptable to accommodate future features requested by them," Carmen notes.
Echoing Ralitsa's sentiment, Carmen adds, "This platform isn't just for the here and now; it's future-facing. We envision it being utilized in other pilot projects down the line."
As the FlexiGrid project continues to shape the energy sector's transformation, it's evident that its integrated platform is poised to play a significant role. Bridging the gaps between current needs and future requirements, the platform stands as a beacon of innovation and adaptability.