Future energy systems need to become more flexible in the way they utilize the functions and energy demands of buildings. As part of the EU-project FlexiGrid, new ways of implementing flexibility technology are currently being tested at Campus Johanneberg in Gothenburg, Sweden. The project aims to develop concrete solutions to improve the utilization of future energy systems by regulating the way technology is used on campus.
"Campus Johanneberg's conditions are very favorable for these kinds of projects. The campus area and its infrastructure have all the properties of a small city. Along with the expertise of Chalmers University of Technology and the innovative enterprises located here, we have a near unique capability to demonstrate how the flexibility technologies of the future can be applied", says Per Löveryd, energy engineer at Akademiska Hus and project leader for work package 6 within the FlexiGrid-project.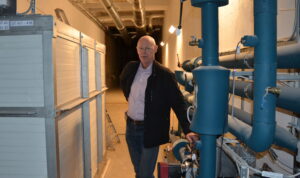 Together with scientists and experts from Chalmers University of Technology, the project conducts experiments on how the on-campus energy system can be adapted and regulated in relation to the power demands of Gothenburg's energy system. The campus area accommodates two large battery units, cooling/heating pumps, solar panels, ventilation facilities, and a power central that produces heat and electricity. Within the project, a central control system has been created to regulate and adapt the utilization of these units, in relation to power demands, electricity consumption and various market data.
Control system for greater exchange from existing technology
"There is no significant need to acquire any additional equipment for us to carry out the tests we want. Everything we need in terms of technology and infrastructure is already in place, which we then adapt in various ways for the different tests. The units and facilities at our disposal range from state-of-the-art battery units and cooling/heating pumps to a steam turbine from 1940, which we have enhanced with modern technology and included in the project. What is now being created is the central control system to regulate all these units".
"It does not take long to implement this type of flexibility control when you are using existing equipment and facilities. There is great potential for the FlexiGrid solutions to be practically applied rather quickly. That is the ambition for these types of research projects – that they not only result in new knowledge, but also lead to actual implementation".
A new marketplace for energy
The control system is meant to regulate the power load within the campus area in relation to the Gothenburg energy system owned by DSO Göteborg energi. This includes creating a local market platform to demonstrate how regulating the facilities can bring savings in terms of both power load and energy, as well as other economic benefits. The project also aims to demonstrate how a flexibility marketplace can function in practice.
"The project aims to create a flexible power grid by matching the energy consumption with the production. Essentially, our objective is to present solutions for future management of the power grid when it is at peak load. Large-scale electrification of our society coupled with a growing share of wind and solar in the energy mix is on the horizon for Sweden and large parts of Europe in the near future. This creates a demand to use artificial intelligence to regulate the power load in the energy systems and make them more efficient".
"We put a high value on the knowledge and ideas that this type of project will generate. Our hope is that the conclusions that we deliver to the FlexiGrid-project will result in not only inspiration, but implementation-ready products that will benefit DSO:s, real estate enterprises, businesses and many others. Generating the necessary knowledge for societal actors to make these improvements in their properties, campus areas and in entire societies is an important task".
The real estate sector and its role in climate change
Akademiska Hus's engagement in the energy sector is partly driven by the development opportunities that are available through the close relationship with scientists, experts, and the innovation sector. As one of Sweden's largest property development enterprises, managing campus environments all over the country, there is an opportunity to conduct these types of projects on several locations. Akademiska Hus's objective of halving the amount of energy delivered to the properties and campus areas during the period of 2000-2025 is nearly achieved. Considering the development of flexibility solutions, it is becoming increasingly relevant to set targets for power load, beyond the already defined ambitions for energy consumption.
"Our ambition is that the knowledge and the products that the project generates can be implemented in Akademiska Hus's operations. We have a far-reaching commitment within the energy sector, and we have a culture of quickly converting the knowledge we achieve together with our partners at the higher education institutions into real measures in our properties and campus environments".
"We need to move more of the conversation from kilowatt-hours to kilowatt when discussing the energy systems of the future. Our energy consumption targets have been important factors in our development as a company. It is now time to set additional power load targets for our properties and campus areas. We already see great potential for applying the solutions from FlexiGrid in other locations in Sweden. To achieve that, it is crucial to maintain a close relationship with our partners at the institutions, as well as the right expertise and technical conditions".
Facts about Akademiska Hus:
Akademiska Hus is a state-owned property company that own, develop, and manage properties and environments for education, research, and innovation. In collaboration with our clients we develop, build, and manage attractiveness of the higher education institutions and contribute to a sustainable societal development.
Akademiska Hus has a long-lasting experience of creating energy efficient solutions for the properties we own and develop. The aim of our efforts within the energy field is using less energy and using it right. Our properties should have well designed and energy efficient systems and operating solutions. By focusing on the optimization in managing our existing buildings and properties, we achieve a steady decrease of energy usage. Making sure our new buildings and environment are energy efficient is also one of our top priorities. One example of this is how we, during the early stages of developing new buildings, explore the possibilities of utilizing the excess energy between adjacent buildings. In this way we can reduce the amount of energy delivered.
Technical specifications of the units/facilities at the Chalmers demo site:
Building thermal inertia (95 000 m2. ca 1500 kW)
Cooling/heating pump. Electricity powered. (3*400/600 kW, MC2 6*800 kW)
Absorptions cooling machines. Waste heat powered. (2*1250 kW)
Free-cooling machines. Cooling from weather. 1000 kW
Solar panels. 790 kW/ 500 kVar
Cooling storage in water tank. (200 kW/800 kWh)
Cooling storage in PCM material. (75 kW/200 kWh)
Battery storage for car charging/solar panels. (50 kW/140 kWh)
Battery storage for DC building/solar panels. (75 kW/200 kWh)
Steam boiler for biofuel. (6 MW 40bar/400 C).
Steam turbine generator. (800 kW)
Hot water boiler for biofuel. (8 MW 16 bar/200 C)
Delivery of district heating to Gothenburg city. (4000 kW in test mode)
Purchase of heat from Gothenburg city (up to 8000 kW)